Nepal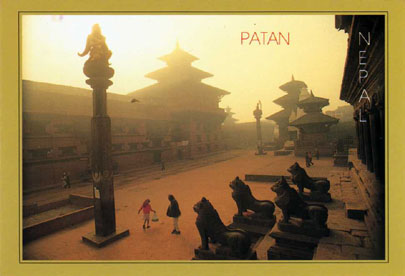 Postcard and text courtesy of Dr. Kim Yang and students.
Image © Pilgrims Book House.
Students: How is the school-life in Nepal?
Mr Ghimie: The school has prescribed certain uniforms like shirt and shorts for boys, shirt and skirts for girls. They study 5 hours a day and students get homework. We have different game-activities for different ages. The senior students play football and chess and junior students play other games.
Caption: Each of the Kathmandu Valley's three ancient towns has a Durbar Square as its religious and communal heart. This is the Durbar Square of Patan, a sister city that is now blending into expanding Kathmandu. Photo by John Everingham.
Imagiverse sends special thanks across the oceans to Dr. Kim Yang and his students: Howard, Steven, Jack, Edward, Peter, and Jackie, for sharing Khagendra Ghimie's interview and postcards with Imagiverse.
| Home | Contact Us | Credits | Sitemap |
© 2007 - Imagiverse Educational Consortium