Pennsylvania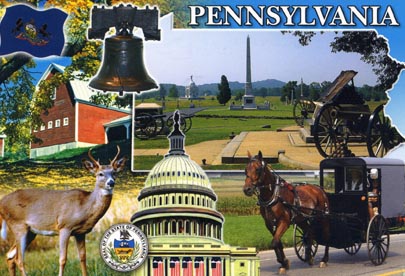 Postcard courtesy of Julie Bressler and Brownie Troop #332
Photo by © Alan and Sandy Carey.
Hello from Brownie Troop #332! On this card you can see some important things in Pennsylvania: the Pennsylvania flag, the Liberty Bell, Gettsyburg, the capitol building, the state seal, and an Amish horse and buggy.
| Home | Contact Us | Credits | Sitemap |
© 2005-2006 - Imagiverse Educational Consortium