Alabama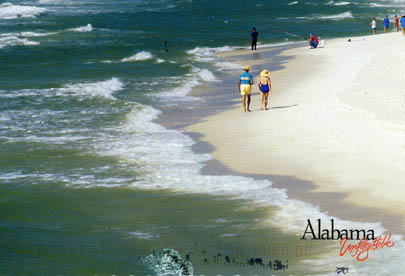 Postcard courtesy of Mrs. Peck's second grade class at Ladonia Elementary
We have 18 students in our class. Here are some facts about Alabama: Capital - Montgomery; nickname - Heart of Dixie; crops - cotton, peanuts, corn; name is from Indian tribe Alibamu; sites of interest - U.S. Space and Rocket Center in Huntsville, Battleship Alabama in Mobile; 2/3 of Alabama is covered with forests. Average temperature in January is 50 and in July is 80.
Caption: Come and enjoy Alabama's Gulf Shores, a 50-mile stretch of some of the world's most beautiful beaches, a sight you'll never forget. These sugar-white beaches and clear blue-green waters are full of fun-filled activities for the whole family, and all at a great value.
We hope you have enjoyed this trip to Alabama. To continue your voyage around the world, click here.
| Home | Contact Us | Credits | Sitemap |
© 2005-2006 - Imagiverse Educational Consortium